Car Hire at Airport Gran Canaria
about rental-discounts & car-insurance at Gran Canaria Airport Car Rental offers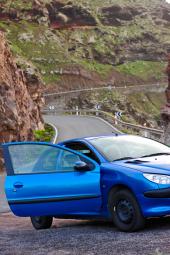 Car trip to Anden Verde
Especially to visitors, which are planning to discover Gran Canaria with a Rental-Car in more than 3 days, we strongly recommend the car hire at Gran Canaria airport. The most spectacular landscapes, the best viewpoints and the most unspoiled places are only reachbale with a car and some hours of time to go there.
Advantages of a longer Car Rental: First of all you pay lower rent-rates and don´t have to look out for one of the expensive airport taxis or the verbose Bus Transfer from Las Palmas Airport to your Hotel or Holiday accomodation. A one-way Taxi Transfer could cost you the same price as a two-day car hire. So save the taxi fees and invest it in a longer rental starting right at Airport LPA .
Enjoy the adventurous routes along the Westcoast (picture Anden Verde above) with spectacular views, a serpentine ride to the arcadian Village of Tejeda and the inner Mountains, or a North Coast Route passing fishermans village San Nicolas and Puerto de las Nieves and Las Palmas City with "Vegueta" Old-Town and Canteras Beach.
Download a sample of a confirmed SANSU Car hire Reservation
check the rental details you will receive after confirmation
PDF download: Car Hire confirmed sample Reservation Auto SANSU
pdf, 103.3K, 07/24/11, 1009 downloads
NO downpayment & always free cancelation for SANSU CAR BOOKINGs: get smoothly your holiday car hired
personal handout & pickup directly at Airport Gran Canaria arrival hall or at Cruisers in Las Palmas Port
This reservation can be canceled or changed always & without any charges! You will receive an automatic generated PRE-confirmation E-Mail with your dates. If all dates complete send us back this E-mail with the note "RENTAL CONFIRMED"